Bring Adventure to Your Kitchen
Dive into a world where style meets substance. Our Pattern Welded Serbian Knife isn't just a tool—it's a culinary statement. Inspired by the raw and rugged appeal of our original Serbian knife and constructed with unmatched quality and superior materials, this knife takes your kitchen and outdoor cooking experiences to a whole new level.
Enjoy the Premium Feeling
With the Pattern Welded Serbian Knife, you're not just buying a tool—you're investing in a lifestyle. The sharp edge and added weight provide a unique, premium feel that enhances your cooking enjoyment. Plus, the wide blade is perfect for swiftly moving chopped ingredients, making your food preparation smooth and effortless.
Relish the Versatility
Whether you're a BBQ fan, a bushcraft enthusiast, or an adventurous home cook, our knife is your loyal companion. The non-serrated blade tackles every challenge with ease, from slicing meats to chopping vegetables, offering you a premium, versatile tool for all your cooking endeavors.
Trust in the Value
We are committed to offering you excellent value for money. While our knives might carry a higher price tag than some alternatives, they deliver an unmatched quality that stands the test of time. Plus, with a 14-day money-back guarantee and a 2-year warranty, you can invest in your culinary future with confidence.
Experience the Craftsmanship
Each of our knives is meticulously handcrafted and shaped under a power hammer before being sharpened to perfection. Our forging process involves stringent heat treatments and hardness checks, ensuring that each knife we produce stands up to the rigours of both indoor and outdoor cooking.
Marvel at the Aesthetics
Moving beyond the ordinary, our Damascus Serbian Knife sports a distinctive 'raw' look and intricate patterns that separate it from common kitchen tools. Its unique forging marks are a testament to the handcrafted nature of each knife, adding rustic charm to your culinary experience.
Delight in the Materials
We believe that quality matters, which is why we choose only the best. This knife is crafted from high-quality 10Cr stainless steel, paired with natural wood instead of plastic for the handle. This fusion of superior materials enhances durability, longevity, and, above all, your culinary joy.
Our story
Our JOURNEY so far
Our journey began four years ago when we started selling our knives online as Couteaux Damas. Back then, we had no idea that what started as a small project to create quality handmade knives at an affordable cost would soon turn into an international brand.
Since then our vision has been one of craftsmanship, quality and excellence. This is why we are so excited about our new brand, as it allows us to showcase what we do best; creating exquisite kitchen knives using brut de forge style and Damascus steel blades.
What Makes Our Pattern Welded Serbian Knife Different?
Four years ago, we launched our journey into the world of culinary craftsmanship with our original Forged Serbian Knife. Crafted with a 16° high-carbon edge and a Pakkawood handle, it was a testament to our dedication to quality and function for indoor cooking. However, we've always believed that good can be better, and perfection is an ongoing journey.
Thus, we embarked on a mission of continuous refinement, fueled by our passion for craftsmanship and our customers' invaluable feedback. We observed, listened, learned, and finally, after countless hours of rigorous testing and tweaking, we arrived at a creation that far exceeded our expectations.
Our new Damascus Serbian Knife is the fruit of these efforts, a symbol of our unwavering commitment to enhancing your cooking experience.
Upgraded Shape
We kept our proven full tang design while taking advantage of new updates for improved blade shape; reducing height while making it slightly longer to better suit use in the kitchen or outside during BBQs/camping!
Stainless Steel
With 32 layers of stainless steel per side and a 10Cr core, it can be used in both wet or dry conditions — no need to worry about rust anymore. It will not let you down when preparing your next tasty meal!
Gorgeous Handle
We've also replaced the pakkawood handle with a premium olive tree handle with a beautiful grain, adding an extra touch of elegance and durability while ensuring a comfortable grip during extended cooking sessions.
This knife isn't just a tool – it's the culmination of four years of relentless innovation, a testament to our journey, and the perfect companion for your culinary adventures.
Experience the evolution of excellence with our Damascus Serbian Knife and become a part of our journey towards crafting the perfect culinary experience.
Easy
How to order in 3 steps
It's never been easier to get your own handmade Damascus knife…
You Save.
Click the button below to secure your discounted price.
We Ship
We ship your knives within 1-2 days of receiving your order, free of charge.
You Enjoy.
Experience the joy of effortless, precise cutting with our Damascus Serbian Knife.
Niels
verified owner
Cedric M.
verified owner
Bel étui en cuir épais avec une pierre à aiguiser en prime. SUPER !!!
4 weeks ago
Cedric M.
verified owner
Très bon couteau, une lame de qualité, un excellent tranchant, le poids parfait pour tout ce qu'il y a à faire dans une cuisine
4 weeks ago
Great knives! Delivery was super fast, arrived in day and a half since ordered, yet it says 3 or more days for EU. That was nice surprise…
Lays great in hand and are joy to work with… would recommend to pro and amateur chefs.
4 weeks ago
Dimitrios
verified owner
Dario I.
verified owner
Couteaux Damas
Cut Above the Rest with our Damascus Serbian Knife
Genuine Pattern Welded Steel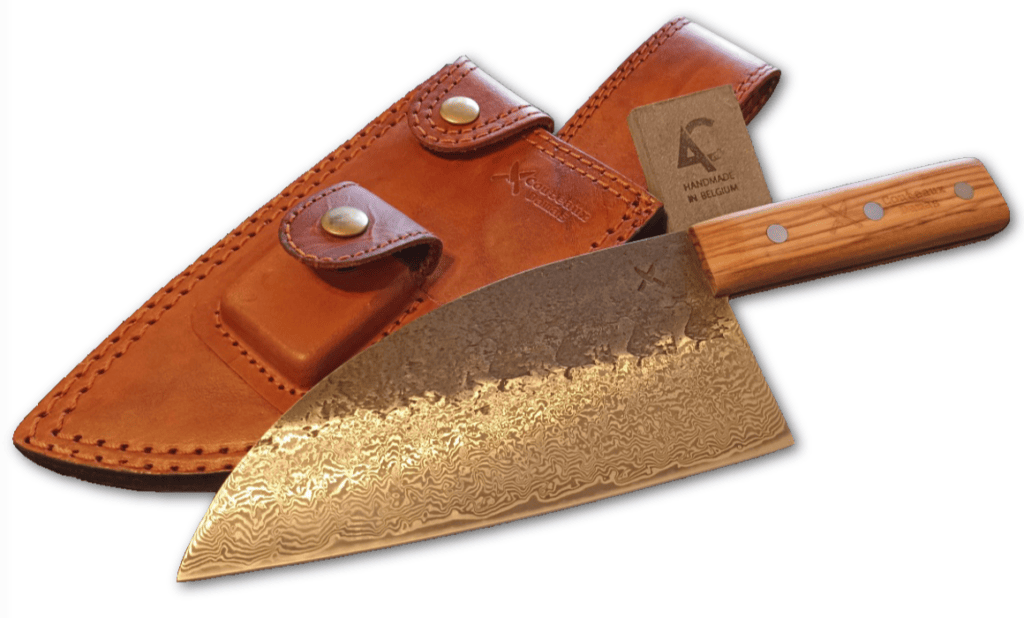 Got a question?
FAQ
How quickly can I expect my knife after placing an order?

We understand your eagerness to start cooking with your new knife! We typically ship out orders the next business day after receiving them, so you won't have to wait long.
Delivery time to the US:
Standard Tracked Delivery: 5-12 business days
DHL Express: 2-3 business days

⚠️ This item is currently in high demand.
If you place your order today, we expect it to be shipped within 5 business days.

You might also have the option to select DHL Express on the checkout if you want to receive your order within 1-3 business days worldwide.
Can the Pattern Welded Serbian Knife be washed in the dishwasher?

While this is a stainless knife, we do not recommend washing it in the dishwasher. The high temperatures and harsh detergents can degrade the blade and the olive tree handle. Instead, gently hand wash your knife with mild soap and warm water, then dry it immediately to preserve its quality and longevity.
What if I am not satisfied with my knife?

We strive to deliver only the best, but if for any reason you're not satisfied with your purchase, we offer a 14-day money-back guarantee. Just return the product in its original condition, and we'll issue a refund.
Do you offer quantity discounts?

Yes, if you buy 2 knives, you get 35% off. If you buy 3 of them, you save 40% 🎁
Perfect if you're looking for a gift for one of your buddies (or for yourself 😉)
How much do you charge for shipping to my country?

Note that we offer free tracked delivery to most EU countries and the US.

Unfortunately, we can't offer free shipping to islands or countries that are far away but we can most likely ship nonetheless. In that case, the shipping cost will be calculated at the checkout.

If you're in a hurry and would like to get your order within one or two days, we can also ship your order via DHL Express for an extra fee. If the option is not displayed for your country on the checkout, don't hesitate to contact us.
What customers are saying about our products?