Non-Damascus Knives
Save up to 40% on exclusive sets with FREE delivery
We are now going to focus only on knives made out of Damascus steel and have decided to discontinue our single and 3-layer knives in a couple of weeks. So here's your last chance to complete your collection…
You really need to get our anniversary edition!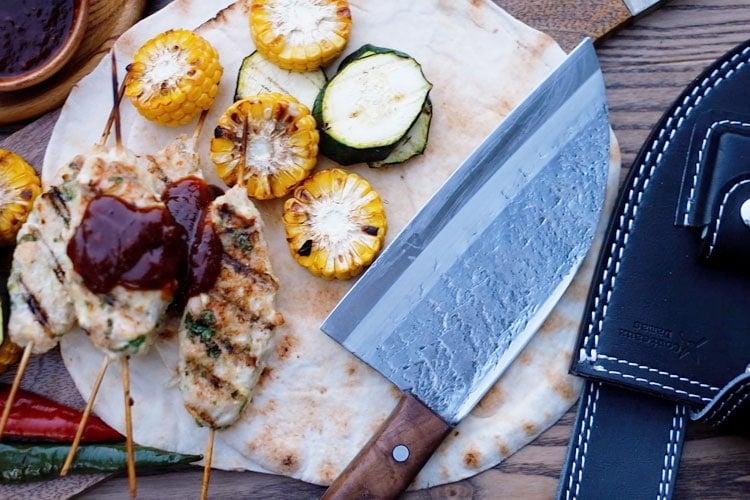 Stainless Serbian Knife + Free Sheath
Many of you have been asking for a Serbian knife that is more rust-resistant. So we're answering your prayers!
We didn't stop half way and decided to go with D2 supersteel to make what the Japanese call a "san-mai" (3 units) blade.
Our previous high carbon Serbian knives were in the 58-59 HRC range. Here with D2, we are going over 60 HRC, meaning it will stay sharp longer.
$179Add to cart
Whether you're a professional chef or ambitious hobby cook, a good knife plays a key role in cooking. A high-quality, sharp knife allows you to create a masterpiece, while a blunt knife won't even be able to take it up with an ordinary onion.
Our forged kitchen knives bring you one step closer to perfectly chopped ingredients and aesthetically pleasing dishes. We've compiled all our non-damascus knives bellow. Those who'd like to treat themselves with a beautiful set of knives serving for indoor and outdoor usage will love our Chef's Deal. While those who are looking for a sturdy stainless blade they can always rely on will love our stainless Serbian knife. Looking for something more rustic or original? We've got you covered as well 😉
Here are all our other non-damascus knives
Free Delivery on orders over 100€ until September
Money-Back Guarantee
Easy and Secure Payment
Delivery time to the US:
Standard Tracked Delivery: 5-12 business days
DHL Express: 2-3 business days

Who is Damas Knives?
Damas Knives is the one-stop shop for exquisite hand-forged kitchen knives. Our product range includes the perfect knife for every need and taste. What started as a small local shop in Belgium, has turned into an international brand with worldwide shipping. Benefit from our knife expertise and excellent customer service driven by a passion for knives.
Hand-Forged Blades and Quality Handles
Traditionally hand-forged by experienced blacksmiths, all our knives are long-lasting and easy and pleasant to work with. No more soft edges, broken tips or blunt blades. Knife handles are made of Pakkawood or Rosewood, known to be among the most exquisite types of wood, making them particularly durable and resistant to frequent use.
Range of Knives
In addition to our exclusive knife sets at an unbeatable price, you can of course purchase all knives individually. Our product range includes everything from pattern welded knives made from Damascus steel to high carbon single layer knives.
Not sure which knife is the best fit for your specific requirement? Don't hesitate to contact us. We'd be delighted to advise you.
What our customers are saying…
Don't take our words for it. After all, who better than our customers having trusted us, to share their experience cooking with our knives? They are our best ambassadors!
Looking for a Damascus knife?
Regardless of the purpose, we have an expertly crafted, elegant knife that will exceed all your expectations.
Single
Proven Best-Seller
Genuine Pattern Welded Steel
Hand-Forged Damascus Steel Blade
XC100 High Carbon Core
73 Layers (36+1+36)
Rosewood Handle
~61 HRC
$190.43Add to cart
Most Popular
Paring + Kiritsuke Duo
Genuine Pattern Welded Steel
Hand-Forged Damascus Steel Blade
XC100 High Carbon Core
73 Layers (36+1+36)
Rosewood Handle
~61 HRC
Fall Special
All You'll Ever Need
Genuine Pattern Welded Steel
Hand-Forged Damascus Steel Blade
XC100 High Carbon Core
73 Layers (36+1+36)
Rosewood Handle
~61 HRC