SAVE UP TO
50%
Last Chance
Offer Limited to the First 30 orders
DON'T MISS THIS OFFER
SECURE YOUR LIMITED DEAL TODAY
There's no better time to secure your new perfect cooking buddy while saving money on our regular prices.
Here's your chance, select your favourite set or buy them all!
Quatro Set
Our Biggest Set
Genuine Pattern Welded Steel
XC100 High Carbon Core
73 Layers (36+1+36)
Rosewood Handle
~61 HRC
GET THIS SET NOW
⚡️ Trio Set ⚡️
Most Popular
Genuine Pattern Welded Steel
XC100 High Carbon Core
73 Layers (36+1+36)
Rosewood Handle
~61 HRC
GET THIS SET NOW
Duo Set
Proven Best-Seller
Genuine Pattern Welded Steel
XC100 High Carbon Core
73 Layers (36+1+36)
Rosewood Handle
~61 HRC
GET THIS SET NOW
Our story
Damas Knives
Our journey began four years ago when we started selling our knives online as Couteaux Damas. Back then, we had no idea that what started as a small project to create quality handmade knives at an affordable cost would soon turn into an international brand.
Since then our vision has been one of craftsmanship, quality and excellence. This is why we are so excited about our new brand, as it allows us to showcase what we do best; creating exquisite kitchen knives using brut de forge style and Damascus steel blades.
What they are saying…
Jordy V.
Excellent quality knives, razor-sharp, light and solid.
Marnix V.
Delivered in 3 days. Really beautiful knives. And sharp as a rasorblade. ❤️
Frédéric P.
Super happy, they are superb!!
Jamie S.
Not had chance to use it yet but it's a masterpiece. Heavier than expected compared to my Japanese knives. Looking forward to using this!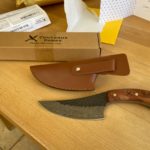 Bring Adventure to Your Kitchen
Dive into a world where style meets substance. Our Pattern Welded Knives aren't just tools—they are a culinary statement. Inspired by the raw and rugged appeal of our first forged knives and crafted with .95% high-carbon steel and superior materials, these knives take your kitchen and outdoor cooking experiences to a whole new level.
Easy
How to order in 3 steps
It's never been easier to get your own handmade Damascus knives…
You Save.
Click the button below to secure your discounted price.
We Ship
We ship your knives within 1-2 days of receiving your order, free of charge.
You Enjoy.
Experience the joy of effortless, precise cutting with our Damascus Knives.
Enjoy the Premium Feeling
With the Pattern Welded Knives, you're not just buying tools—you're investing in a lifestyle. After 4 years and countless hours of rigorous testing, tweaking, and listening to our customers' invaluable feedback, we arrived at a creation that far exceeded our expectations. The latest iteration of our Couteaux Damas collection is the fruit of these efforts, a symbol of our unwavering commitment to enhancing your cooking experience.
Relish the Versatility
Whether you're a BBQ fan, a bushcraft enthusiast, or an adventurous home cook, our knife is your loyal companion. The non-serrated blade tackles every challenge with ease, from slicing meats to chopping vegetables, offering you a premium, versatile tool for all your cooking endeavors.
Trust in the Value
We are committed to offering you excellent value for money. While our knives might carry a higher price tag than some alternatives, they deliver an unmatched quality that stands the test of time. Plus, with a 14-day money-back guarantee and a 2-year warranty, you can invest in your culinary future with confidence.
Experience the Craftsmanship
Each of our knives is meticulously handcrafted and shaped under a power hammer before being sharpened to perfection. Our forging process involves stringent heat treatments and hardness checks, ensuring that each knife we produce stands up to the rigours of both indoor and outdoor cooking.
Marvel at the Aesthetics
Moving beyond the ordinary, our Damascus Chef's Knives sport a distinctive 'raw' look and intricate patterns that separate them from common kitchen tools. Their unique forging marks are a testament to the handcrafted nature of each knife, adding rustic charm to your culinary experience.
Delight in the Materials
We believe that quality matters, which is why we choose only the best. These knives are crafted from .95% high-carbon steel, paired with natural rosewood instead of plastic for the handle. This fusion of superior materials enhances durability, longevity, and, above all, your culinary joy.
Got a question?
FAQ
How quickly can I expect my knife after placing an order?

We understand your eagerness to start cooking with your new knife! We typically ship out orders the next business day after receiving them, so you won't have to wait long.
Delivery time to the US:
Standard Tracked Delivery: 5-12 business days
DHL Express: 2-3 business days

You might also have the option to select DHL Express on the checkout if you want to receive your order within 1-3 business days worldwide.
Can the Pattern Welded Knives be washed in the dishwasher?

No, while 1095 steel is a durable and excellent material for knives, it is susceptible to rust and corrosion if not properly cared for.

Dishwashers expose knives to harsh conditions, such as high heat, strong detergents, and abrasive contact with other utensils, which can damage the blades and handles. Additionally, the high heat and moisture in dishwashers can accelerate the oxidation process and lead to rust formation on the steel.

To maintain the quality and longevity of your knives, it is best to hand wash them using warm water, mild soap, and a non-abrasive sponge or cloth. After washing, dry the knives thoroughly with a towel to remove any remaining moisture. It is also recommended to periodically oil the blades with a food-safe oil to protect them from rust.

By following these care instructions and avoiding the dishwasher, you can help ensure that your pattern welded knives stay in optimal condition.
What if I am not satisfied with my knives?

We strive to deliver only the best, but if for any reason you're not satisfied with your purchase, we offer a 14-day money-back guarantee. Just return the product in its original condition, and we'll issue a refund.
How much do you charge for shipping to my country?

We offer free tracked delivery to most EU countries and the US.

Unfortunately, we can't offer free shipping to islands or countries that are far away but we can most likely ship nonetheless. In that case, the shipping cost will be calculated at the checkout.

If you're in a hurry and would like to get your order within one or two days, we can also ship your order via DHL Express for an extra fee. If the option is not displayed for your country on the checkout, don't hesitate to contact us.
What customers are saying about these knives…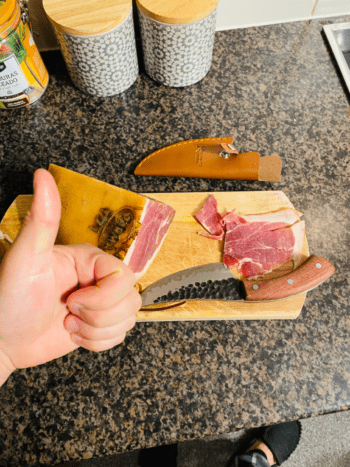 1
Veaceslav C.
Verified owner
good fellows good knives and seller !!! thanks
2 years ago
1
Marnix V.
Verified owner
Delivered in 3 days. Really beautiful knives. And sharp as a rasorblade. ❤️
2 years ago
1
Raffaele E.
Verified owner
Received the Picnic knife 2 days ago
Just faboulous; the craftmanship, the weight , the blade the look
Nobody should go for a picnic without it!
Just 2 comments; would love to know where it was produced and how to take care of the blade
The care should be included and as it is my first knife made with this technique, would have loved to have it
3 years ago
1
Laszlo D.
Verified owner
I don't have much experience yet, but the first impressions are very good
3 years ago
1
Mercedes S.
Verified owner
Very fast delivery, and the products are very high quality. Great purchase!
3 years ago
1
Robyn B.
Verified owner
Really happy with my purchase, they are of great quality and you can tell they are made with precision.
Really like the leather pocket aswell only downside was I only got pocket for picnic knife and not the chefs knife.
3 years ago