Whether you're a seasoned outdoor enthusiast or just getting into camping, a good cooking knife is a crucial piece of gear. Not only do they make preparing food more accessible, but they can also come in handy for other tasks around the camp. Unfortunately, knowing which knife is right for you can be challenging with so many different types on the market.
If you're looking for the best camping knives, the best knife kits for camping cooking, or just a simple camp cook knife, there is a model out there that suits your needs.
In this article, we've put together a list of the 9 best camping cooking knives for 2022. So whether you're thinking of something high-end or something affordable, there's sure to be a model here that's perfect for your needs. Keep reading to learn more!
What are Camping Cooking knives?
Camping cooking knives are knives designed with outdoor cooking in mind. As such, they typically feature long blades and ergonomic handles that make them easier to use when preparing food or doing other tasks around the camp like i.e. prepping firewood.
There is a wide variety of camping knives on the market, but not all will work for your next trip. Please read our article with our nine top picks to help you find out which ones do, and which ones don't have what it takes!
Top 4 Best Camping Cooking Knives
Product Description
The Benchmade Bushcrafter 162 knife is a sturdy and well-build tool, perfect for those who need to do heavy-duty work. In addition, the S30V steel, used in this blade, ensures that it will hold up against more abuse than other knives of similar styles – making the price tag worth it.
The Benchmade Bushcrafter 162 is a compact and durable knife used for many purposes. It has a 4-inch blade made from stainless steel, as well as complete tang construction, so it won't break on you when trying to carve or baton wood.
For those who want an exceptional blade, that will last them through their lifetime of outdoor adventures, the Benchmade Bushcrafter 162 is a worthwhile investment.
Product Specifications
Blade Length: 4.43″ (11.25 cm)
Blade Thickness: 0.164″ (4.17 mm)
Overall Length: 9.20″ (23.37 cm)
Weight: 7.72 oz. (218.9 g)
Handle Thickness: 0.92″ (23.37 mm)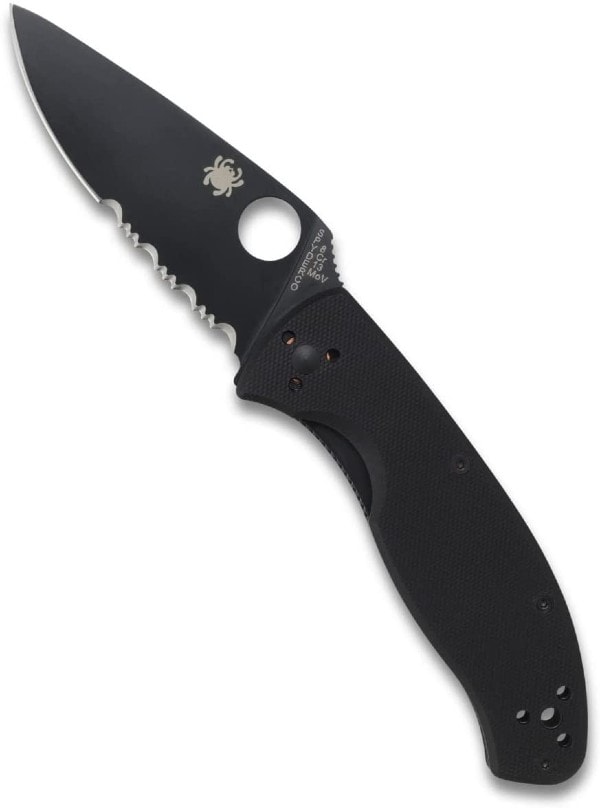 Product Description
This is for those looking for a knife that can cut through anything and doesn't weigh you down when carrying it around. The Tenacious G10 has everything one might need on their hunt or fishing trip without adding unnecessary bulkiness!
The mid-sized G10 laminate handles are made of durable materials that will last long even after repeated heavy use; skeletonized steel liners handle stability so that this blade won't break under pressure compared to knives without them.
The Spyderco stainless steel blade is leaf-shaped and ground flat from spine to cutting edge for maximum performance. In addition, this large Spyderco round hole knife features textured imping on the handle, which allows you a secure grip as well as easy access with your thumb positioned at its base when in use.
Product Specifications
Blade Length: 3.39″ (8.6cm)
Blade Thickness: 0.118″ (3mm)
Overall Length: 7.76″ (19.7cm)
Weight: 4.1 oz (117 g)
Handle Thickness: 0.45″( 11.13 mm)
Product Description
The Gerber Bear Grylls Ultimate Knife is a dependable multi-functional tool that you can take on your next hiking trip. It includes a fire starter, blade sharpener, and even a whistle! The handle features textured rubber for maximum traction while handling wet wood or other challenging terrain in inclement weather conditions – it's waterproof, too, so don't worry if there are sudden downpours during your treks.
Product Specifications
Blade Length: 4.75″ (12.6cm)
Blade Thickness: 0.118″ (3mm)
Overall Length: 10″ (25.4cm)
Weight: 11.2 oz (317g)
Handle Thickness: 0.51″ (13cm)
Product Description
The 104 Compadre Camp Knife was designed and engineered with the outdoor enthusiast in mind. It offers complete tang construction, which means it can take on any job you have for it! In addition, the heavy-duty micarta handle ensures that this tool will last through even your most demanding expeditions while still looking good doing so, too – what more could you ask!
Product Specifications
Blade Length: 4.5″ (11.4 cm)
Blade Thickness: 0.15″ (3.81mm)
Overall Length: 9.5″ (24.1 cm)
Weight: 7.1 oz (201g)
Handle Thickness: N/A
If you're looking for a complete toolset, consider getting a camp knife set. It will provide you with the perfect knife for camp cooking and heavy-duty tasks, as well as other tools that can come in handy such as fire starters, blade sharpeners, or even a whistle. This way, you'll have everything you need in one convenient package!
Knives Worth Mentioning
Product Description
The blade is carbon steel treated according to a secret recipe for optimal results. The tang runs three-quarters up so you can work with power and precision when needed! This knife will be a considerable addition to any adventure; remember that after using it, to make sure there's no residue left behind – wipe away all oil or dirt from contact areas immediately because these types rust if left unattended.
The friction grip on the knife is a TPE rubber, which gives it a soothing feel. The sheath includes an easy-to-use belt clip so you can attach this tool to your rucksack or waistband – always within reach!
Product Specifications
Blade Length: 4.1″ (10.4cm)
Blade Thickness: 0.078″ -(2mm)
Overall Length: 9.17″ (23.3cm)
Weight: 3.9 oz (110g)
Handle Thickness: 0.81″ (20.56mm)
For those who want the best camping knife, look for one with a sturdy design and a stainless steel blade. Make sure it's lightweight and comfortable to use, as well as long enough to handle larger tasks. If you are opting for a folding one, look for a blade with a locking mechanism, so you don't have to worry about it closing on your hands when you're in the middle of a job.
Product Description
There's a lot to love about the Opinel No. 8 folding knife, but what sets it apart is its durability and longevity credentials – this carbon steel blade has been around since 1832! What also makes these pocket knives nifty is their locking mechanism. Virobloc safety ring allows you to unlock your device with just one hand by having two sections that slide together or away from each other depending on how much pressure is applied.
If you want to find the perfect, lightweight camping knife for your next trip – look no further. The Opinel No. 8 is small enough that it won't weigh you down on those long hikes but big enough for whenever you are in need of an expert knife.
Product Specifications
Blade Length: 3.28″ (8.3cm)
Blade Thickness: 0.066″ (1.68mm)
Overall Length: 7.59″ (19.28cm)
Weight: 1.6 oz (45g)
Handle Thickness: N/A
Product Description
It is the perfect tool if you love camping, cooking outdoors, and using your knife for everything from chopping wood to processing game! The Off-Grid Tracker X was designed and engineered to be an all-purpose "camping chef's blade." You can use it in any situation where quality preparation matters – whether it's preparing food on an open fire or processing animals after a hunting trip.
Product Specifications
Blade Length: 4.75″ (12.1cm)
Blade Thickness: 0.197″ (5mm)
Overall Length: 9.5″ (24.13cm)
Weight: 10.3 oz (292g)
Handle Thickness: 3.75″ (95mm)
Product Description
The blade on this knife is fabricated from a hand-forged pattern weld, and it's the perfect size for all outdoor activities. You can cut, chop or slice anything with ease, thanks in part due to the fact that there isn't much effort required when using these knives; they glide easily through whatever you're cutting.
This durable, long-lasting pattern-welded picnic knife has a high carbon core with a hand-forged blade. The process creates an active voice, provides durability, and is engaging.
The handle of this knife is made from premium rosewood, giving it a solid and natural look. The high-density Pakkawood provides the wood with an exquisite aesthetic that compliments well with any kitchen setting or outdoor adventure you may have in mind. In addition, this material can withstand water without sustaining damage, so your blade will always stay sharp and durable enough to last through whatever tasks you put before them.
The perfect balance between rigidity & toughness makes these patterns welded picnic knives resistant against wear-and-tear on all levels – making them ideal both at home as well as during vacations abroad.
Product Specifications
Blade Length: 5.11″ (13 cm)
Blade Thickness: 0.177″ (4.5 mm)
Overall Length: 9.65″ (24.5cm)
Weight: 9.1 oz(257g)
Handle Material: Rosewood
Product Description
This knife is perfect for all tasks in- and outside your kitchen. With its sharp blade, you'll be able to cut the meat without any difficulty- plus, it's well balanced, so cutting vegetables or fruits won't take too much effort.
The pattern-welded medieval knife is a high-quality, durable tool that has been around for centuries with no apparent problems. It contains an inner core made from carbon steel and outer layers, intricately intertwined by hand, to create patterns along their surfaces. This process also improves durability since it prevents rusting or other forms of corrosion and maintains sharpness over time due to the careful manufacturing techniques employed during each production stage.
The pattern-welded medieval knife handle is made from high-quality carbon steel, which provides durability and resistance. The perfect combination of formality with elegance makes for an effortlessly sharp blade that will last through even the most challenging tasks.
Product Specifications
Blade Length: 4.84″ (12.3cm)
Blade Thickness: 0.197″ (5mm)
Overall Length: 9.25″ (23.5cm)
Weight: 5.4 oz (154g)
Hardness: 61 HRC
Tracker Knives: a Multipurpose Blade for Bushcraft and Survival
Tracker knives are designed for more heavy-duty tasks than standard camping cooking knives. They typically have thicker blades and feature a full tang, which makes them more suitable for chopping and batoning wood for fires. They are a great option for those who need a more robust knife for the outdoors.
Things to consider when choosing a knife for camp cooking
Knives are essential for camp cooking, and the right blade can make your tasks easy. Unfortunately, there's plenty of false information about what makes an okay one, so let me break it down for you.
Size and Weight
The blade of a camping knife is typically the most critical factor when buying one. The weight and size should be perfect for your hands so that you can use them efficiently without becoming frustrated or hindered in any way by an uncomfortable weapon.
If you are looking for a knife with precision measurements, the best bet is between 9 and 11 inches. Of course, the whole length of your blade should fall into these numbers as well – but there's more than just size to consider. A good camping knife should also provide an excellent grip so it can withstand all types of users; this means finding one with durable construction and hard-earned features like the compact design if we want our toolbox ready at any time.
To make the most of your camping trip, you need a quality knife that will do more than cut vegetables and meat. A good one can be useful for digging or releasing ropes in an emergency. Having a good knife at your side can help you stay efficient, organized, and safe in many ways.
Fixed Blade vs Folding Knives
Fixed Blade Camping Knives – Fixed blade camping knives come in many different shapes and sizes.
For food prep, shaving wood for kindling, or gathering firewood, a short 3″ – 4″, lightweight knife with an easy grip would be best suited. However, if you don't want to bring anything extra, then it's also possible that these shorter blades may work well enough.
Fixed blade knives are usually considered the most reliable and durable camping knife, with a drop point blade that can take on any job you have for it!
When you need heavy-duty tasks, a full-tang knife is likely the more reliable and less likely to break than folding or partial tangs. It is why most knives advertised as survival knives have fixed blades that can take abuse when used to cut up things on an emergency basis.
Folding Camping Knives – These folding camping knives are great for carrying around in your pocket or on your belt without worrying about accidents. They're perfect to use when cooking over an open fire, cutting a cord, and whittling wooden tent pegs – but if you want something more sturdy, then this is not what will work best.
When shopping for a folding knife, it's essential to consider what kind of locking mechanism you want. If your hands are accident prone or if the blade seems easy enough to use with one hand but not both, then this could be an issue!
Handle Material
Wood is an excellent material for camping knife handles because it's durable, holds its shape well over time, and doesn't readily absorb moisture which means your knives will stay sharp much longer. Plus, the natural beauty of wood makes everyday tasks like cutting things more enjoyable.
Type of Steel
Damascus steel
Damascus steel is an alloy initially used in the production of swords. For many years, people have been trying to figure out how to create strong blades without having them rust over time thanks to this foldable layered metal mixture; it's why we get flexible yet durable blade weapons like knives.
If you are looking for a camping knife that is stronger and sharper than most other production-quality steels, then Damascus steel is the best for you.
Stainless steel
Stainless steel has excellent durability and resistance to corrosion, but it's not exceptionally lightweight.
In addition, stainless handles can be rather slippery, so manufacturers often incorporate etching or ridges on their product to have the required friction. This sometimes leads them to be used with plastic or rubber compounds that provide better grip than just using plain old pure metal all alone would offer. This also means however, that these types of construction don't work well when doing heavy-duty tasks because the added weight causes fatigue quickly on one's hands.
FAQs
How thick should a camp knife be?
The perfect camp knife is one with a 3/16 – 1/4 of an inch thickness. It will make it extremely solid and withstand abuse from wood chopping, battening, or prying while still being flexible enough for whatever you need your blade on the surface below ground level. Of course, you do not want any flex in these blades either; they should be sturdy enough without bending at all when used as intended!
How sharp should a camp knife be?
In general, the sharper your knife is going to be more effective. Of course, you should always make sure that you're not over sharpen or making it too thin because this can cause problems with durability, but a well-made blade will usually get tasks done without much hassle on its own accord.